Still can't make up your mind ?
Check out the below articles of just how our services stand out among the rest. 
We know that picking out the best computer repair company can be a daunting task. It is difficult to determine a companies credibility just from their website, that is why we have worked so hard to provide our clients with articles that we have been featured in as well as testimonials on our testimonial page.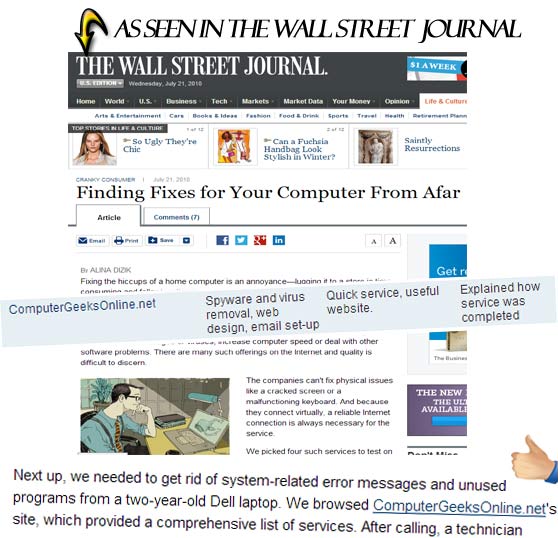 Computer Geeks Online has been recently reviewed by the Wall Street Journal along with three fellow competitors. All the reviewed companies provide remote computer repair as we do.
Take a look for yourself at the Wall Street Journal review and decide for yourself if Computer Geeks Online is the best online support company for you. Ten thousand happy clients already have.
With over 15 years experience and thousands of hours on the job, we have made repairs that no one else was able to master. No job is too big or too small for our experienced techs. Our experienced staff is friendly and knowledgeable and most important we carefully listen to your concerns before performing the repair.
Our techs are also extremely patient and caring when it comes to your machine. We know how important it is for you not to lose your pictures or documents when you have a virus. We go beyond the call of duty to preserve all these precious documents whenever we do a major repair.
Give us a call, you have nothing to lose!
1-888-901-4335